Jardim Sonoro
Parque Eduardo VII, Lisboa.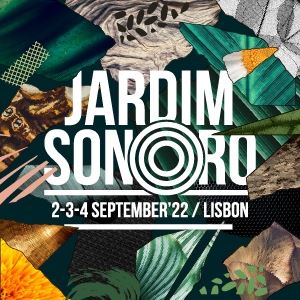 Este evento é somente para maiores de 3 anos. Nenhum reembolso será concedido para menores de 3 anos.
Pague o seu bilhete parcelado/saldo
Já pagou o seu bilhete em parcela? Pague o seu saldo aqui:
---
Alguns ou todos os itens deste evento requerem que utilizador Insira um código promocional.
Insira as suas informações abaixo para comprar bilhetes.
---
Mais informações sobre Jardim Sonoro
Dear Gardeners,

For over a year we have lived limited and circumscribed by the rules and restrictions of a pandemic, facing its consequences and challenges in the best possible way, remaining positive at all times and looking forward to the return to normal life. More than ever we now dream of revisiting our little corner of the world and bringing our garden to life, watching it flourish and culminate in the incredible celebration that is Lisb-on #JardimSonoro.

We're certain all gardeners share an immeasurable desire to feel and listen to music that feeds our souls, dance and laugh together, spread our arms and express our thoughts and feelings. And it is exactly to protect those precious moments, free spirited and by nature exempt of restrictions, distancing and masks, that we have decided to postpone the 2021 edition of Lisb-on #JardimSonoro to the 2nd, 3rd and 4th of September 2022.

The need to protect public health, the paralysis of the cultural and creative sectors, and others essential to the organization of these kinds of events, both in Portugal and the world, made it impossible to secure the necessary conditions for the festival to take place in 2021. Like other music and cultural agents affected by this scenario of uncertainty, we've chosen to prioritize the good health of our Sound Garden and its gardeners.

To all the promoters, artists, agents, technicians and everyone who works so hard to provide us with culture and entertainment, we would like to send a message of solidarity and support. We want the roles of culture and music to be recognized as essential, and their agents supported and protected. More than anything, we want your work, talent and creativity to enrich our lives again as soon as possible.

As for tickets purchased for this year's edition, they will also be valid for 2022, without exchange. As such, we ask all gardeners to hold on to their tickets for the 2022 edition. Those who do decide to save their ticket for the next edition will be entitled to purchase a second 3-day pass for 2022 at the early Bird price of €45. Requests for this promotion code must be sent to info@lisb-on.pt.

The line-up for the 2022 edition will be reviewed to remain as genuine and relevant as possible in face of the changes that have occurred both in the world and in music. We promise to surprise you and present a line-up with the quality, relevance and distinction we've accustomed you to for an unforgettable return to our favourite garden.

Regarding refunds for gardeners unable to attend the 2022 edition, the refund requests for bookings made through the official website of the event as well as purchases made on the See Tickets website must be made through the following link: https://www.seetickets.com/pt/customerservice

The customer has to "Track Order" by filling in the 2 available fields and will be forwarded to the page with his purchase details; a section named "Refunds" will be available where the button "I want to request a Refund" will be shown. Simply click on this button to register the refund request with SEE Tickets and process the refund.

Refund requests must be made by June 31st 2021. The refund of the ticket(s) will be made between September 1st and September 30th 2021.

Faced with the impossibility of gathering in our beloved garden, we encourage each of you to plant lots of love in your lives and in your homes. Keep healthy and safe and see you in 2022!

PROMOTER: JARDIM SONORO